In Memory
William Brege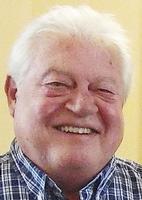 William R. Brege
William R. Brege
The Rev. William R. Brege, 68, of Fort Wayne, Ind., passed away Sunday evening, June 24, 2018, at his home.
Bill was born in Portage, Wis., on Oct. 21, 1949, to the late Robert E. and Edna M. (Moeller) Brege. He married Ruth Anne Kasewurm in Stevensville, on Apr. 6, 1969; she preceded him in death on Oct. 10, 2017.
Bill graduated from St. Joseph High School in 1967 and later received his associate's degree. He was a journeyman carpenter for several years, along with owning and operating Brege Construction Co. He also served many years as the president of the Southwestern Michigan Homebuilders Association.
In 1981, Bill enrolled in the Concordia Theological Seminary in Ft. Wayne, Ind. After graduating in 1985, he served as the director of admissions at the seminary for three years until he was called to serve as the pastor for Bethlehem Lutheran Church in rural Ossian, Ind., where he served for 27 years until his retirement.
Bill was a member of Bethlehem Lutheran Church, the Confessional Lutheran Education Foundation (C.L.E.F.), Lutheran Heritage Foundation, and was very active with the Russian, Siberian and Ghana mission projects. In his free time, he enjoyed woodworking, golfing and cooking.
Survivors include three sons: Todd (Carla) Brege of Bluffton, Ind., Timothy (Katie) Brege and David (Natalie) Brege, both of Ft. Wayne, Ind.; a daughter, Dawn (Joel) Yoquelet of Ft. Wayne, Ind.; and 10 grandchildren: Garrison, Isaiah, Fielder, Madison, Preston, William, Henry, Hallie, Wellesley and Marlee. He is also survived by three sisters: Rosemary (Norman) Schmooke of Colorado Springs, Colo., Kathleen (Mark) Buckert of Atlanta, and Elaine (Fred) Kenny of Muskegon; and three brothers: Daniel (Lynn) Brege of Decatur, Ind., James (Sherry) Brege of Atlanta, and Thomas (Barbara) Brege of Raleigh, N.C.
Visitation will be 4-8 p.m. Friday, June 29, 2018, at Goodwin – Cale & Harnish Memorial Chapel, 3220 East State Road 124, Bluffton, Ind. Services will be held at 11 a.m. Saturday, June 30, at Bethlehem Lutheran Church, 6514 East 750 North, Ossian, Ind., with one hour of visitation prior to the service at the church, the Revs. Dr. Timothy Quill and Randall Wurschmidt will officiate. Burial will follow at Bethlehem Lutheran Cemetery. Memorial contributions may be given to the C.L.E.F., Concordia Theological Seminary for Siberian Lutheran Missions, or Worship Anew – Lutheran Ministries Media. Online condolences may be made at www.goodwincaleharnish.com.